Kingston Arms tournament arming / long sword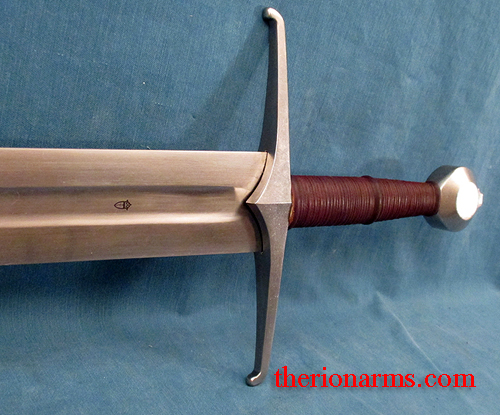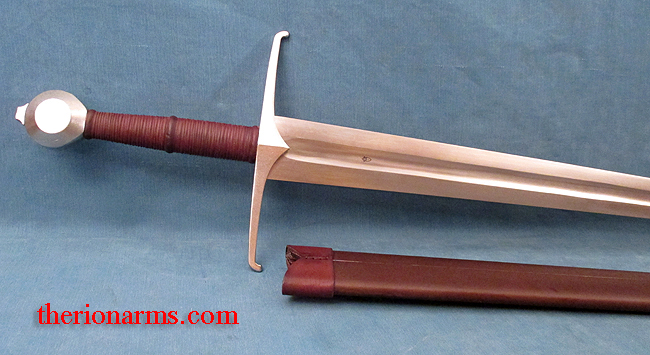 Arming sword. Longsword. Single hander. Hand and a half. Sometimes there's a fine line between the two, and this sword straddles it. Kingston Arms calls this a hand and a half, which most folks now refer to as longswords. (Side note - I've long preached against the Victorian evil of the term "bastard sword", but as it turns out, the term is more historic than I / we first thought when the name-longswords-properly crusade began in the early 2000's. Mea culpa). Anyway, this sword is right on the size line between being a big arming sword and a small longsword. Size is relative, you know - for me, this is an arming sword. For you, it may be a longsword. (For kobolds, it's a montante.)
Regardless of how you want to use it, this sword is an awesome rebated version of an Oakeshott type XVIIIa.4 that lives in the National Museum of Denmark in Copenhagen, dated to the early 1400's -

The blade is forged from 9260 high carbon spring steel tempered to about 50 Hrc, with a full-length tang peened through the pommel (see end-on closeup above). The oval grip is cord and leather wrapped and slightly barrel shaped to reduce gripping fatigue. The edges are 2mm wide from guard to tip. The guard and pommel are stainless steel, and the sword comes with a fine wood-cored leather-wrapped scabbard with a stainless steel chape. This sword is meant for use!
length: 41 1/2"
blade: 32 5/8"
blade width: 2 3/8" at guard
blade width: 3/4" at 2" from tip
grip and pommel: 8 1/8"
wrapped grip: 5 7/8"
guard: 8 1/2"
balance point: 2 3/4" from guard
weight (sword): 3 lb 5.5 oz
weight (sword and scabbard): 4 lb 0.5 oz

Christmas 2017 sale price $210 with free CONUS shipping!
Price: $225