Searles/Fowler Bowie knife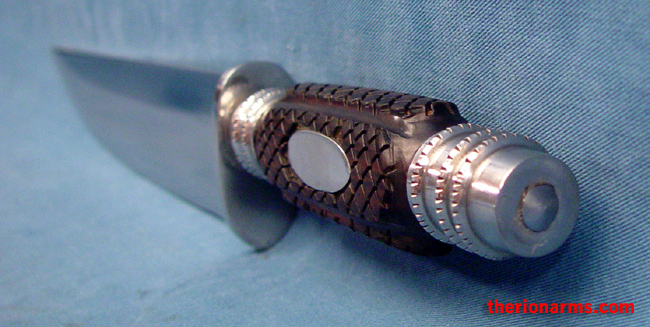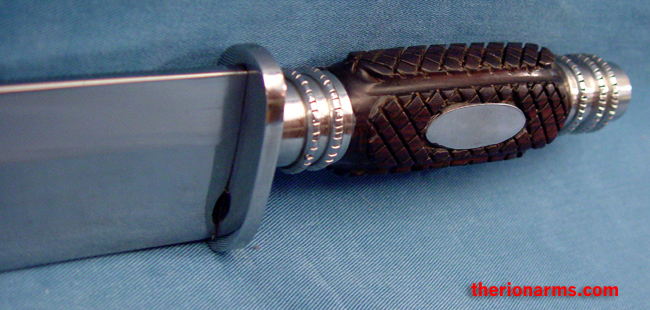 A hand-made reproduction of the Searles/Fowler Bowie knife, which is on display at The Alamo.
Born of fire and steel a common hunting knife, the Bowie knife generates more mystery and controversy than possibly any other weapon in history. The legend of the Bowie knife began in a few brief moments on the banks of the Mississippi River in September of 1827. Called at the time a sanguinary affair, the "Sandbar Fight" firmly cemented the Bowie knife's place in history.
Outnumbered, shot and bludgeoned, James Bowie defeated four assailants, killing one and wounding another with what witnesses called a "big butcher knife". After an earlier assault in Alexandria, Louisiana, James's older brother Rezin gave him the knife so that he would never again be caught unarmed.
Many legends surrounded the final disposition of the "Sandbar Bowie" knife, but mystery shrouds its ultimate fate. According to Bowie family legend, James Bowie returned the knife to Rezin, and one of Rezin's grandchildren lost it.
While it is not the original knife made famous by the Bowie brothers nor the knife carried by Jim Bowie at the time of his death, the Searles/Fowler Bowie, made in the 1830's by Daniel Searles, Rezin Bowie's favored cutler, is perhaps the finest example of an early Bowie knife still in existence. The original resides in the Alamo Museum in San Antonio, Texas.
This reproduction is made from 1060 carbon steel with a hand hammered, hand ground and highly polished sharp blade and a full tang. The grip is hardwood, the scabbard is wood wrapped in leather with steel accents.
length: 15"
blade: 9 1/2"
blade width: 1 3/4"
grip and pommel: 5 1/4"
guard: 2"
weight (knife): 1 lb 2.7 oz
weight (knife and sheath): 1 lb 9.0 oz

Discontinued and sold out