Man-at-arms German messer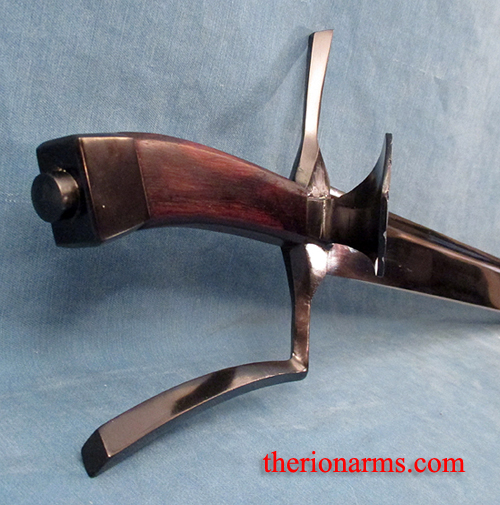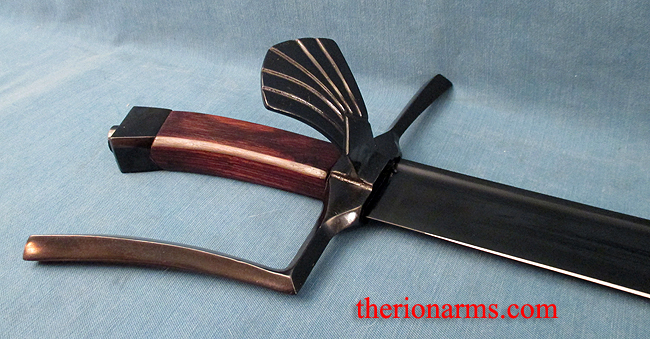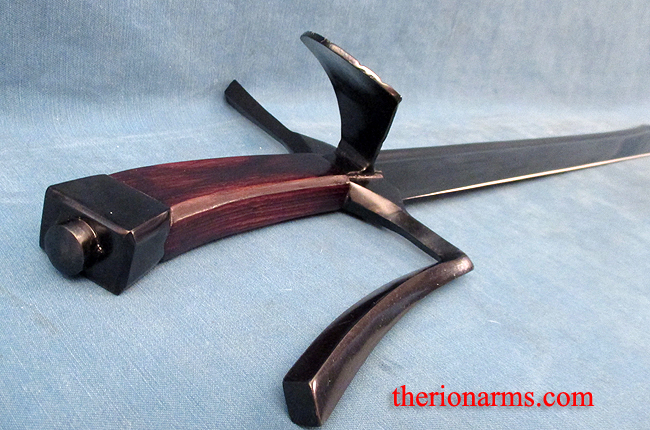 That's not a knife ... (say it with me:) ... THIS IS A KNIFE! And 'messer' is German for knife, so we've come full circle. With a Germanic flair for understatement, this is a sword. (There's still some argument about how sword-sized messers came to be - something about swords being banned for non-nobles and non-nobles saying "righto, we'll just make our knifes really big!", but this is kind of apocryphal).
From the historically inspired Man-at-arms series, this modern interpretation of a 16th German messer is forged from 1090 high carbon steel. Light and fast for its size, it handles like a giant Bowie knife ('that's not a knife' ... etc.) The clip-point style blade is fully sharpened on the primary edge with an unsharpened false edge terminating in a sturdy upswept point. The cross-guard, knuckle bow and pronounced shell-shaped 'nagel' are blued to match the blade and enhance the rich brown of the rosewood handle scales. Comes complete with a black leather scabbard with blued fittings.
length: 28"
blade: 22"
blade width: 1 3/4" at guard
blade width: 1 7/8" at widest
blade width: 7/8" at 2" from tip
grip and pommel: 5"
button cap: 1/4"
guard: 7" x 5"
shell nagle: 3" x 2 1/4"
balance point: 1 1/2"
weight (sword): 2 lb 0.5 oz
weight (sword and scabbard): 2 lb 14.5 oz

Price: $250