Atrim arming sword type XVIII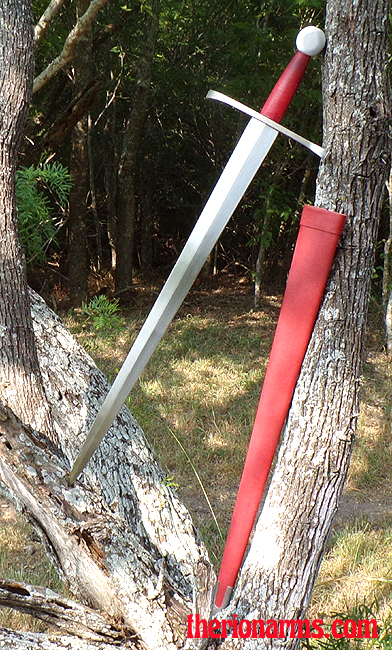 This sword features the classic diamond cross section of Oakeshott's type XVIII specification, typical of arming swords used by knights and men at arms of the 15th century. The stiff blade and acute point would be used to find the small chinks and exposed gaps in armor, and the balance and distal taper make it an effective cutter against unarmored targets, too.
This arming sword was the first in a series designed by Gus Trim and produced by Kingston Arms to his performance sword specifications, and they're fast becoming my favorite arming swords. The blade is hand forged mono-tempered 9260 spring steel flat ground with a handsome satin finish. The fittings are high quality stainless steel. The grip is cord-wrapped hard wood with a textured leather over-wrap. The scabbard is wood core with with stainless steel fittings and a stitched leather wrap.
length: 32 1/2"
blade: 26 3/8"
blade width: 1 7/8" at guard
blade width: 5/8" at 2" from tip
guard: 8 3/8"
grip and pommel: 5 5/8"
wrapped grip: 4"
balance point: 4"
weight (sword): 2 lb 1.5 oz
weight (sword and scabbard): 2 lb 10 oz

Price: $375