Godfred pattern-welded viking sword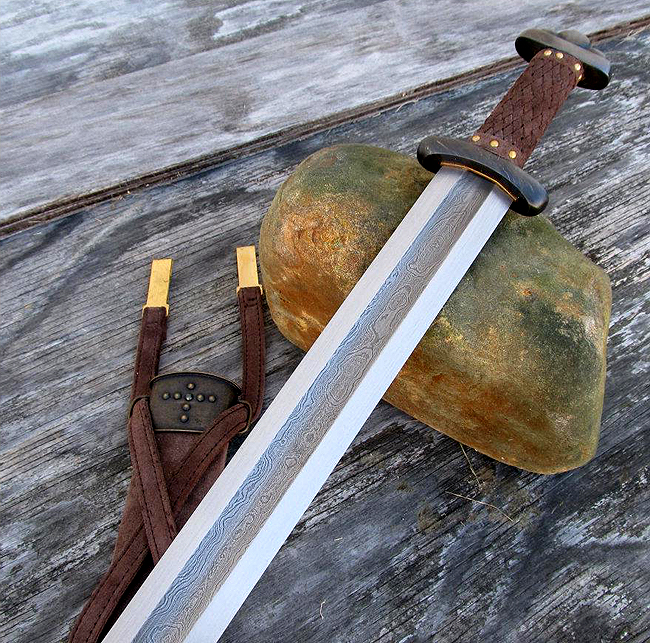 Godfred was a ninth century Danish king who reigned around 804 to 810, and he was a fierce foe to Charlegmagne and the Franks. Named in his honor, this Danish viking sword with its three-lobed pommel and downward curving hilt is actually from the 10th century and can be categorized as a Wheeler type VI/Petersen type L. Unlike the earlier migration period swords which had been tip heavy and thus fairly cumbersome to wield, the blades from around the 10th century onwards begun tapering and came to a fairly sharp point. With the point of balance moved closer to the hilt, the swords became quicker and lighter in the hand.
This reproduction has a beautiful pattern-welded distally tapered carbon steel blade with a deep fuller and polished flat. The interwoven leather grip is complemented by a damascus guard and pommel, and comes with a leather-covered wood core scabbard with bronze fittings and belt hooks. The blade is superbly balanced and a joy to wield.
length: 34 1/2"
blade: 28 5/8"
blade width: 1 15/16" at guard
blade width: 1 1/2" at 2" from tip
guard: 3 1/4"
grip and pommel: 5 3/8"
leather wrap: 4 1/8"
balance point: 4" from guard
weight (sword): 2 lb 6.0 oz
weight (sword and scabbard): 5 lb 5.0 oz

Price: $480