Kingston / Atrim type XIIIa war sword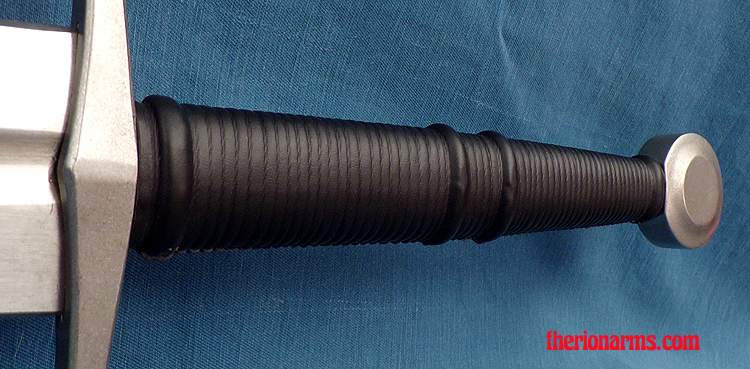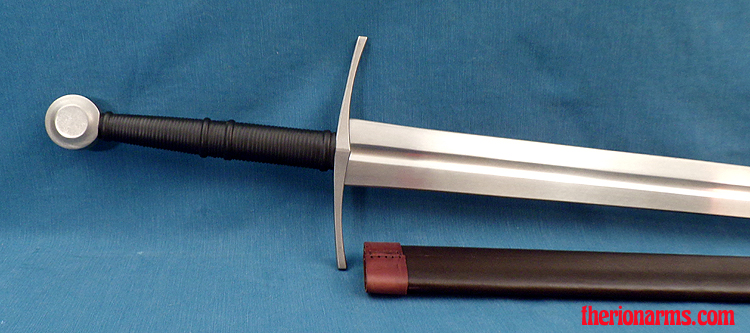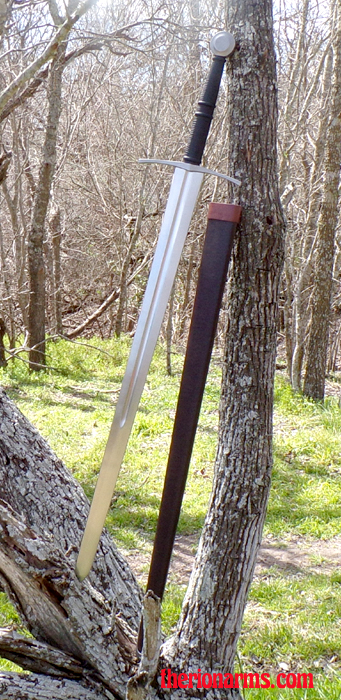 Designed by Angus Trim and made by Kingston Arms - an Oakeshott type XIIIa war sword. This sharp and surprisingly nimble beast is from that interesting mid 12th to early 13th century arms race between swordsmiths and armorers - meant to counter Transitional Armor with elegant force.
The blade is mono-tempered 9260 spring steel, flat ground (very) sharp with a satin finish. The pommel, guard, and scabbard fittings are stainless steel. The grip is cord and leather wrap over a wood core, with two risers that really help you feel your hand placement. The pommel is solidly held in place with a threaded M6 x 1 retention nut, the same size that fits most Tinker, Atrim, and Kingston swords with non-peened pommels. The scabbard is wood cored with a leather over-wrap.
length: 43"
blade: 32 1/2"
blade width: 2 1/4" at guard
blade width: 1 1/4 at 2" from tip
grip and pommel: 9 5/8"
leather wrap: 7 3/4"
guard: 7 7/8"
balance point: 5 3/4"
weight (sword): 3 lb 4.0 oz
weight (sword and scabbard): 4 lb 3.0 oz

Price: $390