collection begun 1989
served 10 dollops at at time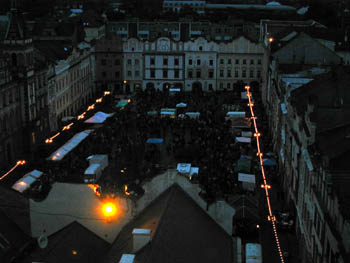 Oligarchic justice explained: Stealing money is only against the law when you steal from those who have more than you; not the other way around."
For the first few post-rehab weeks in Los Angeles, Mewes could be found at the club every night, hanging with his sober-living crew of Jack Osborne, Mike McGuiness, and Brian Milo. In place of heroin and Oxycontin, their new poison was Red Bull - the energy drink that sells itself professing "It gives you wings", but could move boatloads more product if they sold it as "Red Bull: If You've Just Given Up Smack, This Is The Beverage For You!" -- Kevin Smith
Strange women lying in ponds distributing swords as a basis for a system of government is looking better and better every week.
I will make those who go against me lose strength and spirit. -- Fiore dei Liberi, 1409
"In these modern times, many men are wounded for not having weapons or knowledge of their use." - Achille Marozzo, 1536
"The motives of men-at-arms can always be read as honourable. But those who fight primarily for gain must be careful lest they endanger the victory while they search for spoils or quarrel among themselves as they find them. Even the poor man-at-arms can be rich in honour. Better to spend goods in the search for honour than the reverse. Shame is the great fear of the true warrior; compared to loss of honour, death itself is a trifle." -- Geoffroi de Charney
A man may fight for many things. His country, his friends, his principles, the glistening tear on the cheek of a golden child. But personally, I'd mud-wrestle my own mother for a ton of cash, an amusing clock and a sack of French porn. - Blackadder II
DO NOT ADJUST YOUR MIND - the problem is with reality.
Willful ignorance is the leading cause of Creationism in the US today.
Dear neo-pagans: Wolves are not kindly harbingers of some flower laced fairy land, they are scavaging top-of-the-food-chain highly evolved predators who would happily eat your children.
(reload page for more wisdom)

have come here seeking enlightenment