collection begun 1989
served 10 dollops at at time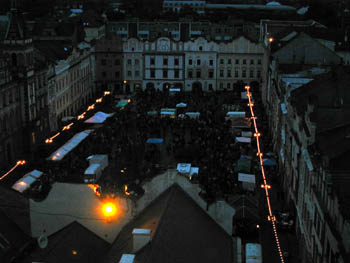 Please die for your own sins; don't make someone else do it. -- DGollub
You should never let children mix drinks. It's unseemly. And they use too much vermouth." -- Dorothy Parker
This country will not be free until the last health insurance actuary is strangled with the entrails of the last pharmaceutical company rep.
"The fact that slaughter is a horrifying spectacle must make us take war more seriously, but it does not provide an excuse for gradually blunting our swords in the name of humanity. Sooner or later, someone will come along with a sharper sword and hack off your arms." -- von Clausewitz
This is also one of the true core techniques in the handwork; for when your opponent rushes upon you with quick and swift devices, you can stop and hinder him with no other technique better than with the slice, which you shall hold in stock for yourself among all techniques as a particular gem to discover." -- Joachim Meyer, 1570
The same side of the moon always faces the earth because it is afraid Neil Armstrong will come back if it starts spinning any faster.
If you can buy it at the mall, it ain't "counterculture!"
Critics are like eunuchs in a harem; they know how its done, they've seen it done every day, but they're unable to do it themselves. -- Brendan Behan
Maybe if Ayn Rand had smoked a doobie or two, she wouldn't have been such an uptight bitch. -- Mr. Clarence Butterworth
"Civilized men are more discourteous than savages because they know they can be impolite without having their skulls split." -- Robert E. Howard

have come here seeking enlightenment